SS serves it up hot from all the corners of Pakistan, From all the genres of Fashion!
Pret is a tricky territory, it's harder than couture as far as Pakiland goes. One designer House that is serving it up hot is Jannat and Sadaf.
The newest sensation in pret wear, It's time to know Jannat the Designer behind the Pastel wonders and white visions!
Style Stripped brings you: Jannat Shahid.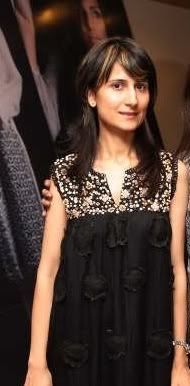 ... A quirky one on one with Jannat Shahid of Jannat and Sadaf.


which other designer's work do you like? International and Local?
I love Valentino's silhouettes, Pucci prints, Dolce's attitude. Rizwan Beyg is my favorite local designer, I think he is really talented.
If you could come back as one dress, which one would it be? 
The Simple Long Kurta.
If you could come back as a model, who would it be?
I can't imagine being any one except me.
 What's your fav. colour?
white.
What's your fav. Junk Food?
Crips.
What's the Last Book you Read?
The case of Exploding Mangoes.
what scares you most?
Drowning.
what's the secret?
To Have Faith.
Any female you particularly admire?
My Sister.
Is there something special you do for someone who cannot pay for a J&S creation all in one? Do you have a deferred payment plan?
With such affordable prices you don't need a deferred plan.
What's your most common saying?
How odd is that?
What is the one thing you LOVE and one thing you HATE about doing what you do? 
I love it when someone says 'WOW' to our creation and i hate haggling over prices.
Your motto in life?
Get out of the box and Live it up!
What is your take on ' Designers being 'Inspired' (copying) by other Designers?' Do you thing it's ok if a Designer take only 40 percent of another one's creation?
Its really NOT ok to steal people's idea and incorporate them as your own. Such i deas are always shortlived and rarely go a long way.
Have you ever cheated in life? (In any aspect)...
My upbringing doesn't give me the liberty to do that.
What computer do you use?
The Vaio.
Do you give back to the society? If not are you planning some sort of social Act.
Yes, we always try to contribute a small percentage to the society.
Plastic surgery ... Yes or No?
No!
What do you have for breakfast?
I love breakfast! Almonds, Honey, Toast with cheese and a cup of coffee.
At age 7 what did you want to be?
A model.
Favorite vacation spot and why?
London... Feels like home.
What's you most treasured possession?
My kids.
 Which is the one Brand (Bags; Shoes) you swear by?
I am not a one brand person. I wear whatever i like whether its branded or not.
Alot of designers still don't deliver on time. What do you do to ensure that doesn't happen?
We are always careful about punctuality. however since everything is mostly manual sometimes delays can be unavoidable.

How does one go about interning with J & S. And is it only Fashion related and therefore for Fashion student OR can other people think about it too?
I would love to teach younger people about fashion so almost any one is welcome.
If you weren't a designer what would you be?
A journalist.
What piece of Art would you most like to own?
Jameel Naksh.
Are there any set backs of working where you do from?
None.
When and where are you most happy?

With my Kids.
Whose diary would you most like to read?
No ones.
What do you hate about the Fashion Industry?
The incessant rivalry.
What's you biggest self-indulgence?
Chocolates
What's you favorite place to shop?
London.
If you were an Inventor, what would you invent?
The Time Machine.
Who's you favorite Singer?
Atif Aslam.
Your biggest critic?
My mother.
Always...
Be honest.
Never...
Be judgmental
What is your take on Style Stripped (be comprehensive if you wish ;)
I love Style Stripped and I am Hooked on it!